09-23-2017: 10% Dividend Threatened by Payout Exceeding Revenues
If it sounds too good to be true, it probably is. San Juan Basin Royalty Trust (SJT) has been paying out montly cash distributions and dividends quite regularly; but the stock price has declined to the point where it might be considered an "accidentally high-dividend payer." While such trends may not be sustainable, the question remains how far will the payout be cut? Under terms of the trust, the payout is pretty much set. This stock is involved in leased wells producing mainly natural gas which stock is seeing historically-low prices. Any recovery in the energy sector should benefit this stock, and currently it is at the top of a recent trading range, but far below its historical prices. Depletion of reserves is undoubtedly involved. What we think is most interesting about this stock is its chart pattern which fits the description of a "rubber band stock," which is about as dependably reactive as one can get; and it offers in-and-out trading opportunities.
Our recent article on San Juan Basin Royalty Trust (SJT) is in the Archives Section Below.


09-22-2017: Zenith On the North Korea Situation
Markets have certainly tended to ignore any threats from North Korea. The belief is that even an "insane" leadership in North Korea would not be so stupid as to launch an attack on the U.S. or any of its possessions or allies. China has stated it would come in on the side of North Korea if a pre-emptive strike were used against North Korea. But if North Korea strikes first, it is not assured of any Chinese support at all. Thus, all the rhetoric going back and forth seems to be "a tempest in a teapot."
Not so fast! There is logic behind the "madness" of North Korea's leadership, and it appears to be working for them.
There is a small cadre of folks in power in North Korea, all of whom appear to be "living on the edge" of an absolute dictator's whims and will to execute any of the unfaithful. One sees propaganda videos of King Jong Un standing with his generals, all of whom have forced smiles on their faces concealing a fear that any disloyalty could cause the "dear leader" to turn on them. What the "deal leader" is doing to secure his absolute authority position is not entirely obvious to some Americans, including our President.
One of the ways King Jong Un has consolidated his power over the North Korean people is to propagandize a perceived real threat that the U.S. will try to destroy North Korea. Almost all North Koreans accept and believe this. Any attack from the U.S. in retalliation for perceived threats from North Korea to the U.S. would kill millions of North Korean peole, and there are only about 26 million of them to begin with. The "Dear Leader's" attempts to build up a nuclear arsenal that would certain obliterate Seoul from the map are seen as a necessary guarantee against in invasion or interior overtoppling of the current regime there. His popularity is therefore genuinely enhanced, not just out of fear of reprisals from him. By engaging in the threatening rhetoric that President Trump uses frequently, he is actually strengthening the current regime's support from the North Korean people, and serving Kim Jong-un's pruposes admirably.
In the venacular of Korean tough talk, Mr. Kim has called Donald Trump a "dotard" where the equivalent Korean word means a senile person who is lazy, useless, and demented.
Beyond that, however, a recent CNBC program filmed from inside North Korea by, we believe by a BBC reporter, showed a crowded modern shopping mall in Pyongyang and some magnificent monuments and architecture in that city, high rises, and clean and sometimes "park-like" streets. People were buying Chinese-made smart phones and almost everyone seemed to have one. Granted Pyongyang is a "show place" where few North Koreans are even allowed to live unless they are privileged, but a drive into the countryside does not show millions of starved people but rather productive farms. There is a general order to the place one finds lacking in many industrialized countries, environmentally-well-kept, in opposition to what most Americans conceive the place is like from propaganda where everyone is starving and destitute. The country is self-sufficiently producing from within but does receive from international food aid. There is no question that the lives of North Koreans have improved as a whole under the rein the current "Dear Leader."
China's recent closing off of its financial institutions to North Korea was clearly the result of the U.S. cutting off Chinese banks enabling business with North Korea by blacklisting them in this country. The economic damage to China would be far worse if they didn't throw North Korea under the bus. China and North Korea are no longer as close as they once were, but China does NOT want a united Korea on its border and will protect the existing North Korean regime to the extent it is able without starting a nuclear war.
Through 2015, North Korea made only three intercontinental missile tests, two under Kim Jong-Il and only one under Kim Jong-Un. Subjec to check, there have been two more ICBM tests since then, among hundreds of shorter-range tests.
The U.S.S. Pueblo remains the only U.S. Navy ship still commissioned but currently being held captive in Pyoungyang waters. It was an environmental research ship. It has been there since 1968, with one interruption when it was towed somewhere else briefly.

Zenith's Active List of 39 Stocks as of 09/23/2017
(Updated once a week, usually on Saturday except when less than 5 trading days in the week.)
Note: Zenith tries to pick only stocks which are shortable, but sometimes stocks appear afterward on the SEC Regulation SHO list of stocks which are not shortable, which is beyond our control. On some stocks, Zenith may hold more than the number of shares it trades in its inventory. Thus the "short" sale of such a security would technically not be a "short" sale for us and not subject to SEC rules regarding selling securities which are not deliverable. Also, stocks pop on and off the list available for shorting on successive days, so the presence of a stock on the current SHO list doesn't mean it was there at the time it was shorted.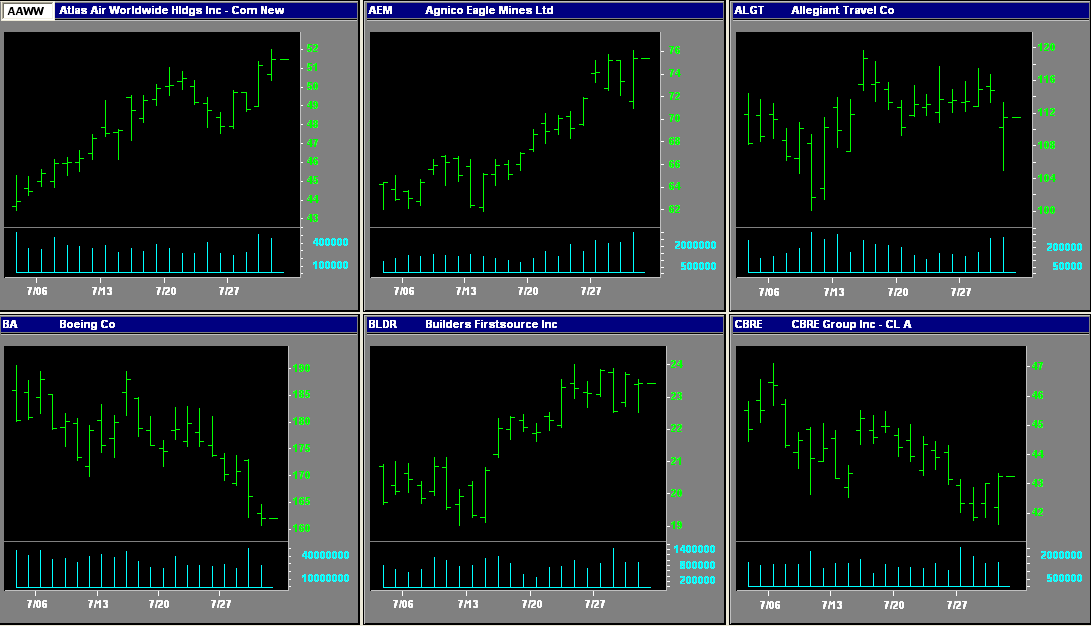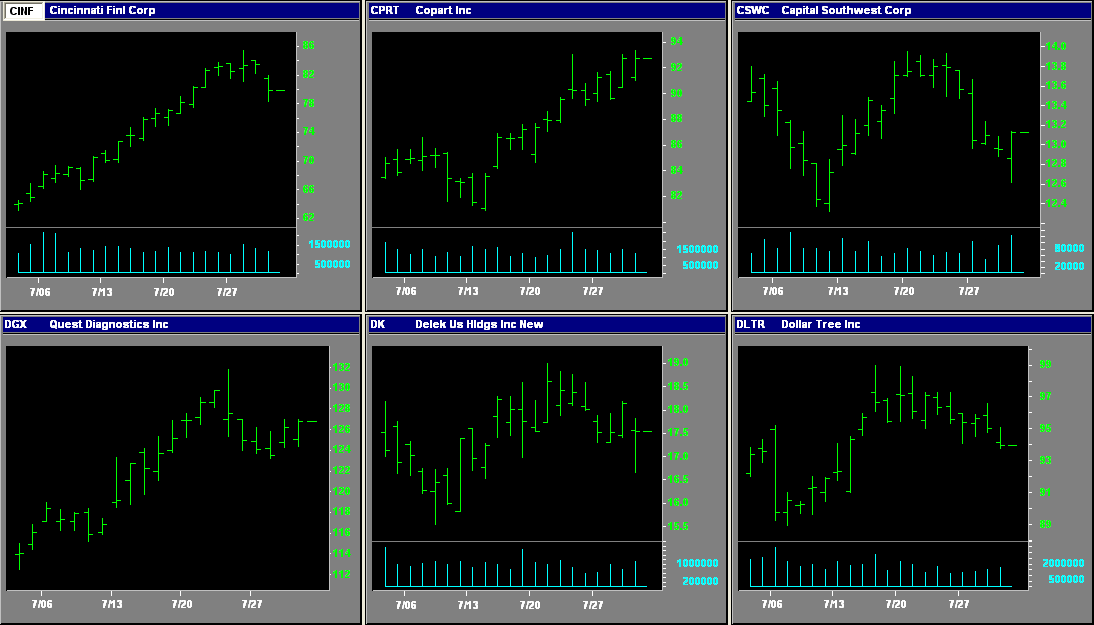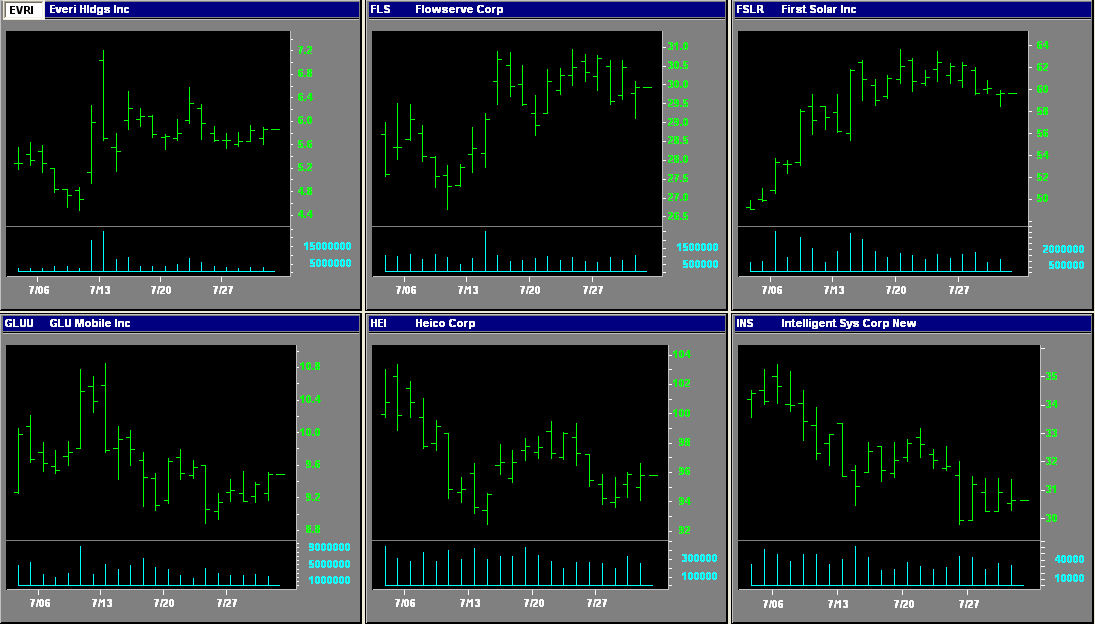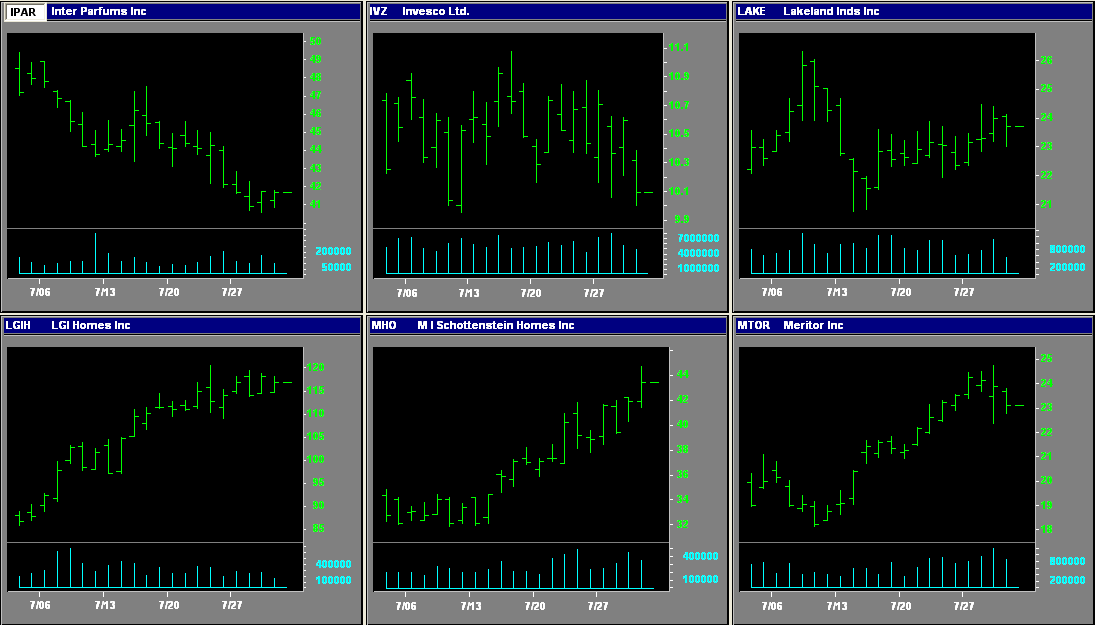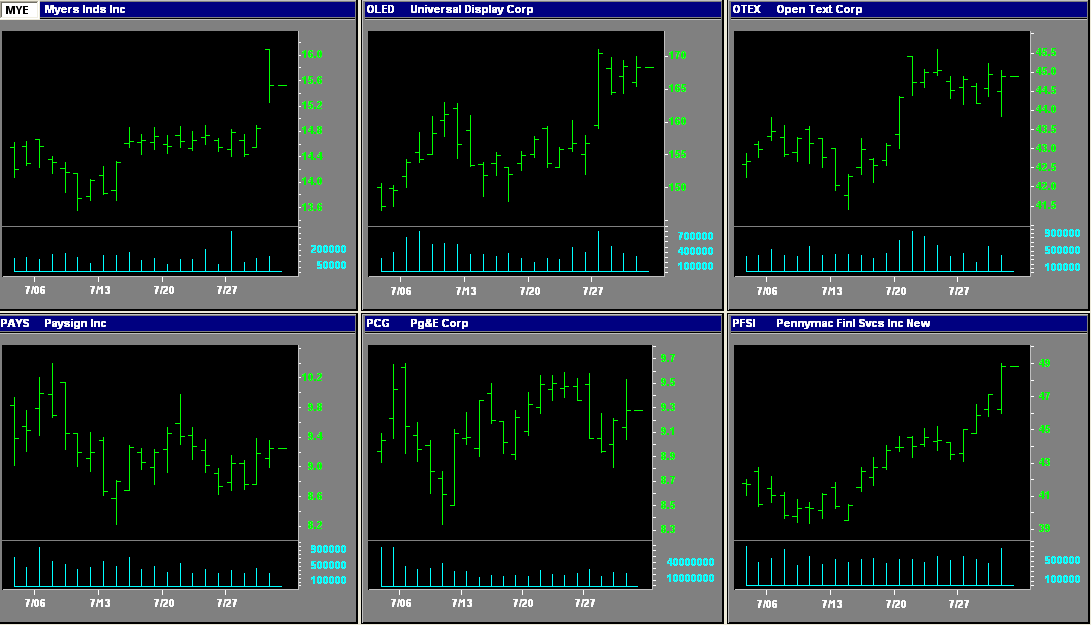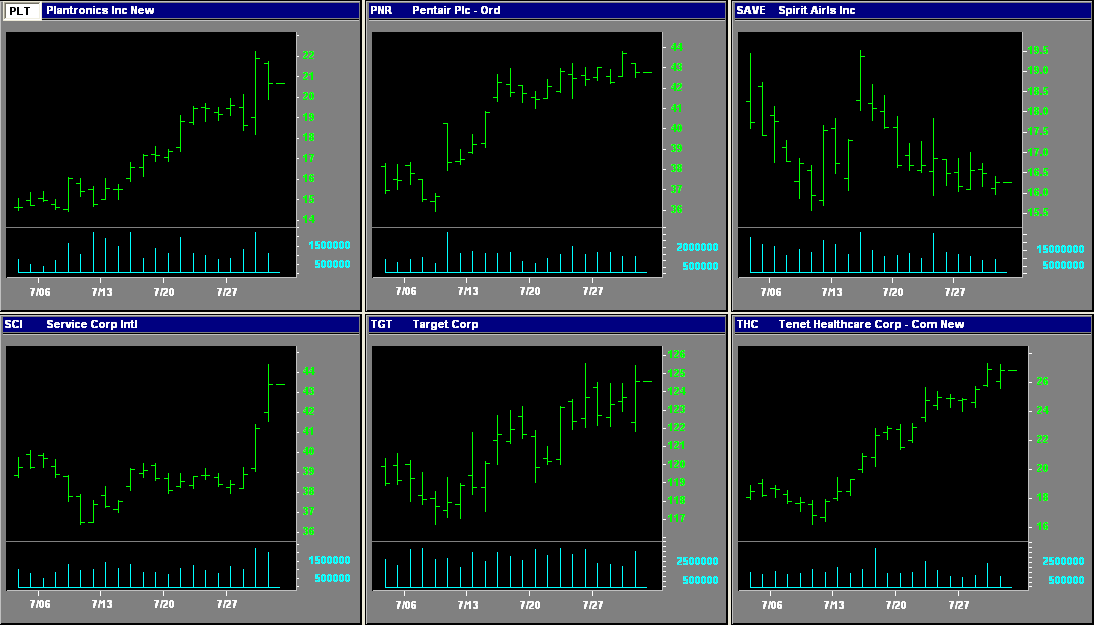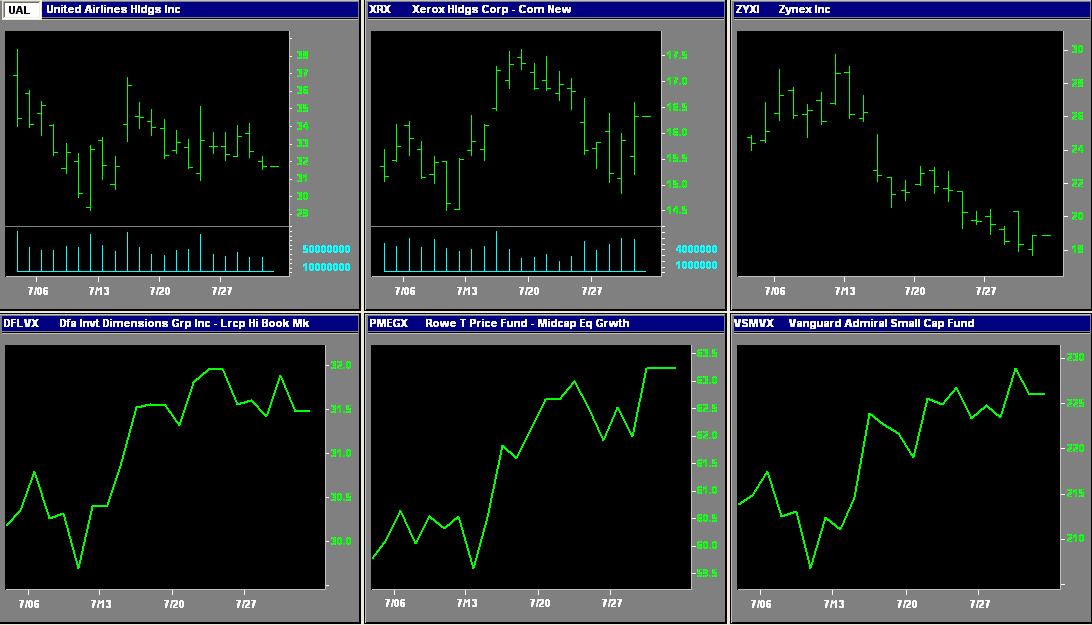 What are the last three entries in the Active Stocks chart list? These represent typical high-, mid-, and low-cap mutual funds to help us gage the tenor of the stock market as a whole.

Archive List
09-23-2017: San Juan Basin Royalty Trust (SJT): Payout Exceeds Revenue
09-20-2017: Centene Corporation (CNC): Growth Through Acquisitions
09-15-2017: Ingredion Corporation (INGR): Average Food Group Performance
09-11-2017: Ituran Location & Control Ltd. (ITRN): Vehicle Tracking
09-07-2017: Quad/Graphics, Inc. (QUAD): State of Art Commercial Printing
08-31-2017: Rogers Communications Inc. (RCI): Competitive Canadian Wireless
08-28-2017: Old Dominion Freight Line (ODFL): Internet Commerce Benefits
08-21-2017: CPI Aerospace Structures, Inc. (CVU): American Aerostructure Craftsmanship
08-17-2017: Hilltop Holdings, Inc. (HTH): Regional Bank with Nationwide Presence
08-12-2017: Aaron's Inc. (AAN): Lease or Buy
08-07-2017: Renewable Energy Group Inc. (REGI): Awaiting Government Enlightenment
08-02-2017: Align Technology Inc. (ALGN): Aligning Teeth
07-27-2017: Washington Federal Inc. (WAFD): Rising Interest Rates Help Profits
07-23-2017: Aercap Holdings, NV (AER): World's Largest Aircraft Lessor
07-17-2017: Argan, Inc. (AGX): Successsful ECP Powerplant Contractor
07-12-2017: Sherwin Williams Co. (SHW): Acquring Most of Competition
06-26-2017: Rudolph Technologies Inc. (RTEC):A Tech Stock with Stronger Valuation than Most
06-21-2017: D.R. Horton Inc. (DHI): America's Largest Homebuilder
06-17-2017: Marriott Vacations Worldwide Corp. (VAC): Enhanced Timeshare
06-10-2017: Eagle Materials, Inc. (EXP): Awaiting Infrastructure Bill
06-04-2017: Ascena Retail Group, Inc. (ASNA): Competition from Amazon Blamed
06-04-2017: Boot Barn Holdings, Inc. (BOOT): Nation's Largest Western Wear Retailer
05-31-2017: MaxLinear, Inc. (MXL): Serving Cable and Satellite Circuit Needs
04-24-2017: Par Technology Corporation (PAR): Food & Beverage Industry Niche
04-18-2017: Best Buy Co., Inc. (BBY): Electronic Specialty Retailer
04-12-2017: Mondelez International, Inc. (MDLZ): $35 Billion Spinoff from Kraft
04--06-2017: Darden Restraurants Inc. (DRI): Benefits from Loosened Regulations
03-31-2017: Pepsico, Inc. (PEP): Strong International Presence
03-24-2017: KB Financial Group, Inc. (KB): Large Korean Bank
03-18-2017: Barnes Group, Inc. (B): Stable Aerospace Company
03-12-2017: Ultra Clean Holdings, Inc. (UCTT): Wafer Fab Mania
03-06-2017: II-VI, Incorporated (IIVI): Bright Future in Laser Materials
02-24-2017: Nova Measuring Instruments, Inc. (NVMI): Measuring Increasingly-Complex and Smaller Wafers
02-20-2017: Lam Research Corporation (LRCX): Etching and Wafer Equipment Niche
02-16-2017: AmerisourceBergen Corporation (ABC): Very Large Medical Supplies Distributor
02-12-2017: Park-Ohio Holdings, Inc. (PKOH): Conglomerate of Separate Companies
02-07-2017: MarineMax, Inc. (HZO): America's Largest Yacht Dealer
02-03-2017: RingCentral, Inc. (RNG): Internet Telecommunications Software
01-27-2017: Viad Inc. (VVI): Travel in Canada & Convention Shows Everywhere


Stock Performance
Trading in stocks involves risk, and past performance is no guarantee of future profits. Zenith does not sell advice nor does it manage discretionary accounts other than its own. Readers should be aware of the vested interest that all traders / brokers have in encouraging other traders to make the same transactions. No one should follow investment advice blindly. This web site should be used only as a "sounding board" forconfirming one's own opinion. Any suggested order placements should be reviewed and reset to fit current market conditions by individual traders.

Recommendations may include trades which have already been made on the same or a previous day,otherwise the issue is placed on a "watch list." Suggested stock trades are based upon an approximate maximum $30,000 capitalization requirement per trade. Zenith's actual trades may be larger.
Click here to E-Mail Zenith!