News Analysis
Macroeconomic optimisim is punishing precious metal commodities. There is widening belief U.S. tax reform will pass. Strength in the U.S. Dollar is another justification for long silver positions to exit. The threat of a U.S. Government shutdown has been shunted to the sidelines. It remains a possible issue, however. President Trump is warning of a shutdown threat ahead of meeting with lawmakers. A temporary spending bill is due to run out at the end of this week. Russian gold output rose by 14 tons last year. The United Arab Emirates have increased their gold reserves. Tax reform seems the main issue of the day propelling metals markets downward. The trade is expecting a December Federal Reserve rate hike, and tax reform will push the Fed toward taking more aggressive action. A congressional winter break is coming up, and markets give it the benefit of doubt that legislation will get done before then.
A very dramatic silver price spike in the 1970's was similar to what traders now think is happening with bitcoin. China and Russia cracked down hard on bitcoin. Bitcoin has leveled off a bit on anticipation of further governmental regulation. Experienced traders say bitcoin smells like a bubble.
Some traders say as long as the GDP/inflation rate remains "moderate", i.e. below 2%, equities will outperform. At 3+%, runaway inflation will allow precious metals to outperform. Republicans believe they can push the rate up to 4% as justification for increasing the national debt at a time of economic boom.
The gold-to-silver ratio is about as out of whack as it has been in recent times, now standing at around 79.5. It implies silver is exceptionally under-valued, with a more nomral ratio being around 76.5 over the past year, and considerably lower than that in earlier years.
A climbing price of oil is seen as an indication of impending inflation, good for metals.
Bitcoin received a boost after the main U.S. derivatives regulator said it would allow CME Group and CBOE Global Markets to list bitcoin futures contracts. They soared to $13,000 from $12,000 in about one day. Bitcoin is described as a "cryptocurrency." It was below $1,000 at the start of the year. Bitcoin is a nw currency created in 2009 where transactions are made with no middle men, meaning no banks. There are no transaction fees and no need to give your real name. More merchants are beginning to accept them from webhosting services, pizza makers, or even manicurists. Bitcoin transactions are not tied to any international payment regulations. People can send bitcoins to each other using mobile apps on their computers. Bitcoins are not insured by the FDIC. A British man threw a hard drive containing more than $9 million worth of bitcoin into the trash. One bitcoin is worth about as much today as an ounce of gold. There is a transaction fee from various exchanges for converting your bitcoins into cash which can be sent to a bank account, or unloaded at a particular ATM machine. A bitcoin exchange was recently hacked causing the loss of about $62 million.
From 1990 to around 2008 therre was a silver supply deficit over demand. From 2008 on there has been a silver surplus. There has been a great correlation in charts between oil price and silver price. The suggestion is made that the value of silver is not based upon supply/demand forecasts but rather upon its relationship to oil price.
Recent silver demand breaks down into greatest use for jewelry and silverware, followed by electronics, with uses for photovoltaics and photography declining significantly. Physical silver var and coin demand quadrupled between 2008 and 2015 over the period 2000 to 2007.
Good Chinese Producers Manufacturing Index data has done little to boost silver and gold prices. Gold and silver appear to look range bound. North Korean missile tests have also done little to boost precious metals. Even a weaker Dollar does not appear to be helping.
Media outlets were predicting a surge in silver prices after Britain decided to exit the Euro Zone. This did not happen, and is considered "media hype." A bearish forecast for silver prices is currently being given by "Investing Haven." It sees silver and gold on the verge of a complete breakdown.
Futures trading on the Comex is the main determinant of silver's cash price. Some say bullion banks are fleecing futures traders. They say futures trades are not paired with anyone delivering actual silver (unlike stock market trades.) Paper contracts are tethered together to physical gold in a bullion bank's vault by the thinnest of threads. The coverage ratio, the number of ounces of silver represented on paper contracts to the actual stock of registered silver bars rose above 500 to 1. In particular Deutsche Bank is accused of rigging metals markets by fixing the London "fix" price. Big banks have paid nearly $200 billion in fines in nearly 200 cases since 2009. Unfortunately the fines are believed to be much smaller than ill-gotten gains. The exact methanism of price fixing is somewhat ill-defined and hard to find on the Internet despite these accusations.
Many who pay more for healthcare, drugs, hospital bills, cigarettes, beer, college tuition, fresh vegetables, processed food, auto insurance, doubt that consumer price inflation is low as we are being told. Global debt exceeds $200 trillion and rising rapidly. The debt cannot be paid back in currencies with 2017 purchasing power. Debt must be rolled over in continually devaluing dollars, euros, yen and pounds. Rolling over maturing debt aggravates the problem. The national debt of the U.S. government exceeding $20.5 trillion is more than the U.S. Gross Domestic Product. Buying silver and gold is seen as protection. Balanced budgets, honest currency units, global peace and political honesty are all unlikely. Central banks foirced to print unlimited numbers of currency units will stifle reform attempts. It is hard to argue against this if one considers 1970 new house cost, average income, new car cost, minimum wage, a movie ticket, gasoline per gallon, cost of a postage stamp, cost of milk, coffee, eggs or bread. But unfortunately futures contracts are time denominated and it is a question of "when" not "if" and when can take a long time outlasting most futures contracts.
Point & Figure Chart

 23.0I                                                                  T 12/ 5
     I CMX - Mar-18 Silver Mini, 2500 oz. $/oz.    Cm.=0.01  Lim.= 0.8
     I
     I
     I
 22.0I_________________________________________________________________________
     I
     I                                              X
     I                                              XO
     I                                              XO  X X
 21.0I______________________________________________XOX_XOXO___________________
     I                                              XOXOXOXO
     I                                              XOXOXOXO
     I                                              XO OXOXOX X
     I                                              X  O OXOXOXO
 20.0I______________________________________________X____O_OXOXO_______________
     I                                              X      OXOXO
     I                                              X      OXOXO
     I                                              X      OXO O
     I          X                                   X      OX  OX
 19.0I__________XO__________________________________X______O___OXO_____________
     IX         XOX                               X X          OXO    X
     IXOX       XOXO                              XOX          OXO  X XO
     IXOXO      XO OX       X                   X XOX          OXO  XOXO
     IXOXO      X  OXO      XO                X XOXO           OXO  XOXO  X
 18.0I_OXO__X___X__OXOX_X___XO________________XOXOX____________OXO__XOXO__XO___
     I OXO  XO  X  OXOXOXO  XO                XOXOX            OXO  XOXOX XO
     I O O  XO  X  O OXOXO  XO                XO OX            O O  XOXOXOXO
     I   OX XO  X    O OXO  XO                X  OX              OX XOXOXOXOX
     I   OXOXO  X      OXOX XO                X  OX              OXOXO OXOXOXO
 17.0I___OXOXOX_X______OXOXOXO________________X__OX______________OXOX__OXOXOXO_
     I   OXOXOXOX      OXOXOXO        X       X  OX              OXOX  OXOXOXO
     I   OXOXOXOX      OXOXO O        XO      X  OX              O OX  OXOXO O
     I   OXOXO O       OXO   OX       XO  X X X  O                 OX  O OX  O
     I   OX X          OX    OXO  X   XO  XOXOX                    O     OX  O
 16.0I___O__X__________O_____OXOX_XO__XO__XOXOX__________________________OX____
     I     OX                OXOXOXOX XO  XOXOX                          OX
     I     OX                OXOXOXOXOXO  XOXOX                          OX
     I     OX                O OXO OXOXO  XOXO                           O
     I     OX                  OX  OXOXO  XO
 15.0I_____O___________________O___OXO_OX_X____________________________________
     I                             OX  OXOX
     I                             O   OXOX
     I                                 O OX
     I                                   O
 14.0I_________________________________________________________________________
     I
     I
     I
     I
 13.0I----I----I----I----I----I----I----I----I----I----I----I----I----I----I---
        11111111                      1111                      1111        11
      990011222211112222334455778888990022123344456667777778999901221334567900
      230212013302220011132301011122020301210212200220001120002221010022111112
      207948150167793537807049950804282071664412998895671875291781555330724837

The above chart is giving a conventional sell signal.
---
Cyclical and Seasonal Factors
We are headed toward a cyclical high and are in a seasonal up period.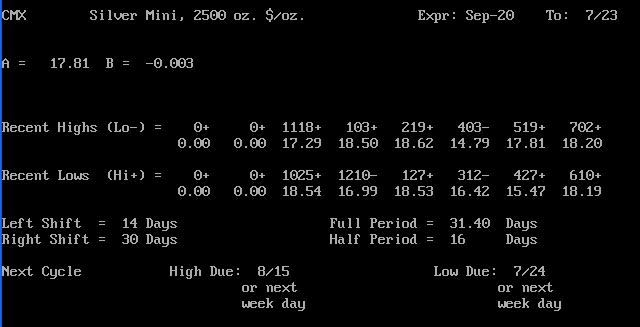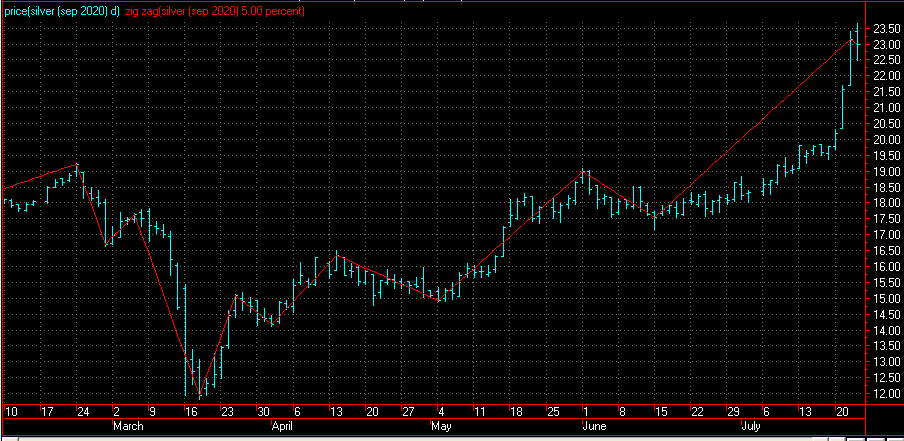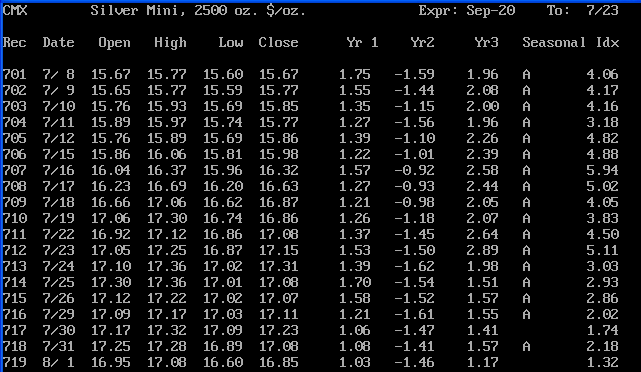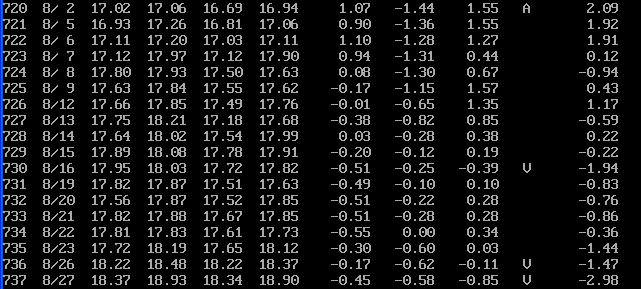 Internal Program
Our best-performing internal program is "SwingT." It is giving a reactive buy signal.
Results of "SwingT" for Silver (blue lines = successful trades, red, unsuccessful): (Not always in the market.)