News Analysis
After scares about a significant portion of the Florida orange juice crop being wiped out by sudden death greening disease, Orange Juice futures soared for a bit. Then there were stories about a drop in demand for orange juice due to calorie intake, i.e. how many oranges does one have to squeeze to make a single glass of orange juice? Last year, lower productdion in Florida combinerd with drought in Brazil, the world's largest grower, combined to cause futues prices to rise to as high as $2.25/pound. However, this year recovery in Brazil's crtop is expected to boost supplies beyond demand for juice, with U.S. juice makers supplementing the meager Florida crtop with supplies from Brazil and Mexico. The USDA pegged global orange juice production for 2016/17 up sharply at 1.968 million metric tonks as Brazil rebounds from the lowest production in nearly 30 years. Brazil's production is forecasted to 44% to 1.2 million tons, with stocks of juice expected to rise 15% this year as Brazilian inventory doubles. U.S. production is forecasted to drop 28,000 tons to 355,000 tons, with imports rising 20,000 tons to 300,000 tons.
The principal concern now is consumption, given an adequate supply of oranges. Sales of not-from-concentrate juice have increased 21% this season, but shipments of frozen concentrate, the basis for the commodities contracts, have dropped 23%.
However, there are potential cultivation problems in Brazil which revolve around the sudden death greening disease as well as cyclically dry Brazilian weather. Even with a bumper Brazilian crop, there are other issues to consider. Current fruit size is close to minimum in Florida, and it takes 243 fruits now to fill a box. Florida growers will harvest enough oranges to fill 70 million 90-pound boxes in coming months, down from 81.6 million in the 2015/16 season. This season will see a 14% drop in the size of Florida's crop after seeing a 16% drop year to year in the previous season.
Brazil's oranges are "watery," where a lower quality could mean a 16% yield loss. It takes many more oranges to make juice from Brazilian oranges. Part of this is due to a change in the way Brazilian farmers grow fruit to avoid the disease. Brazil companies crushed 288.93 boxes of oranges to make 1 ton of juice this season versus a historical average of 250 boxes. In the 2002-2003 season, Brazil reached the same amount of juice with only 224 boxes. Currently it is believed 275 boxes per ton will be the new average.
U.S. juice sales are down 5% this season. There is currently a disconnect between the still high price of orange fruits and the falling price of concentrated juice in the futures market. This is linked to the disconnect between the not-for-concentrate preference.
The concentrate market is getting smaller and thus reacting with more volatilityi to news, tending to overshoot on news of weather, crop forecasts, and consumption. Imports to the U.S. of Brazilian frozen concentrate OJ is up 1% compared to the same period last season at 120.7 thousand tons. Exportation to the European Union from Brazil has dropped to 411.09 thousand tons in the previous season. That was dpwm 23% year on year.
Orange juice futures have shown a marked seasonal trend each year, with prices topping out in Novmeber of each year.
Changing tastes regarding breakfast drinks worldwide may force Brazil to change its reliance on orange juice's role in its economy. Particularly in Europe, demand has fallen off. Brazil started exporting oranges in 1960 when the greening disease began to hit Florida, previously the world's biggest producer. Now Brazilian producers have achieved global dominance. Giant Brazilian juice firms built factories in the U.S., Portugal, and Holland. The scale of those investments makes it nearly impossible for new producers to rival them. Brazilian orange producers are exposed to big concerns about consumption abroad, unlike other products like meat where only 20% of the produce is exported. In 2015 the Braziliam firm Cutrale bought the U.S. company Chiquita. Brazil has a solid marketing campaign in other countries to dispute claims that orange juice has too many calories. Smoothies and coconut water are beginning to rival orange juice.
Point & Figure Chart

207.0I                                                                  R  7/21
     I ICE - Sep-17 Orange Juice, 15000 lbs, c/lb. Cm.=0.20  Lim.=10.0
     I                  X X
     I                  XOXO
     I                  XOXO
187.0I__________________XO_O___________________________________________________
     I                X X  O
     I                XOX  OX
     I                XOX  OXO
     I                XOX  OXO
167.0I________________XO___OXO_________________________________________________
     I              X X    OXO
     IX             XOX    OXOX
     IXO            XOX    OXOXO
     IXO            XOX    O OXO
147.0IXO____________XO_______O_O_______________________________________________
     IXOX           X          O
     IXOXO          X          O
     IXOXOX         X          O
     IXO OXO        X          O
127.0IX__OXO____X_X_X__________O_______________________________________________
     IX  OXO    X XOX
     I   OXO    X XOX
     I   O O    XOXOX
     I     OX   XOXO
107.0I_____OXOX_XOX____________________________________________________________
     I     OXOXOXO
     I     OXOXOX
     I     O O OX
     I         O
 87.0I_________________________________________________________________________
     I
     I
     I
     I
 67.0I----I----I----I----I----I----I----I----I----I----I----I----I----I----I---
          1     1      11111
      96891134890114578001223345
      22212221021122120021010210
      74770833434190098364126703

Our computer tells us a non-conventional reactive approach works best for Orange Juice on p&f charts. Therefore the above chart is taken as giving a buy signal.
---
Cyclical and Seasonal Factors
We are headed toward a cyclical high and a weak seasonal up period.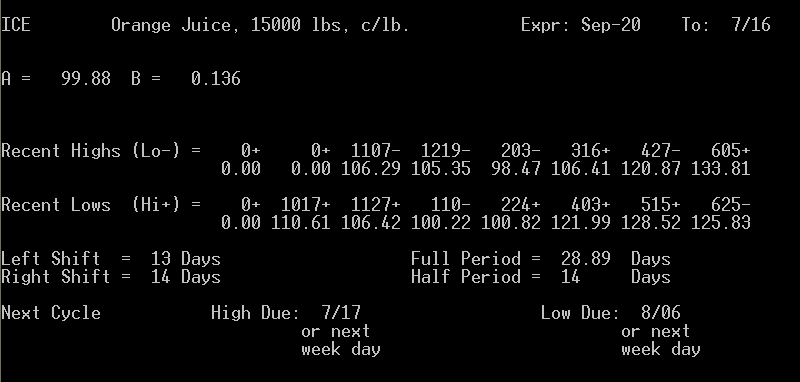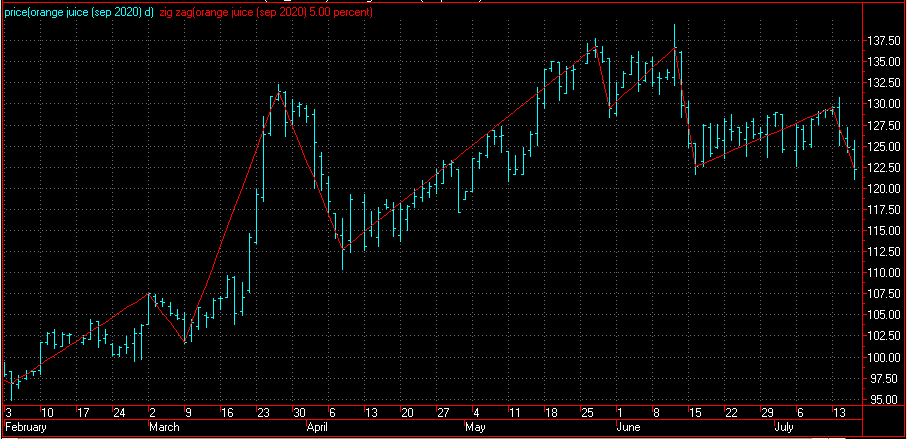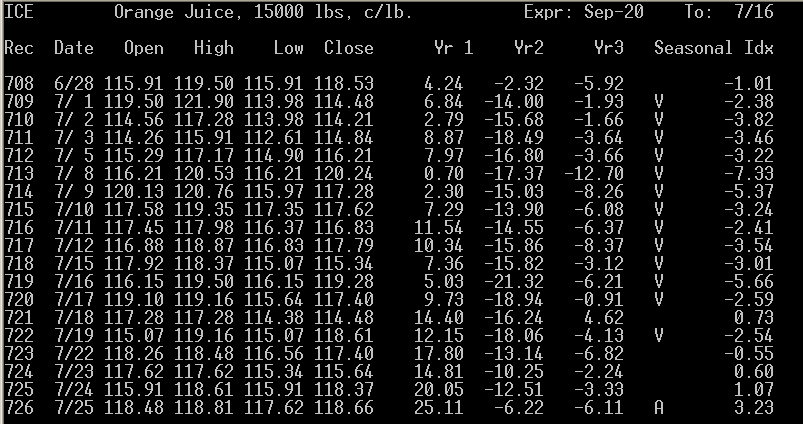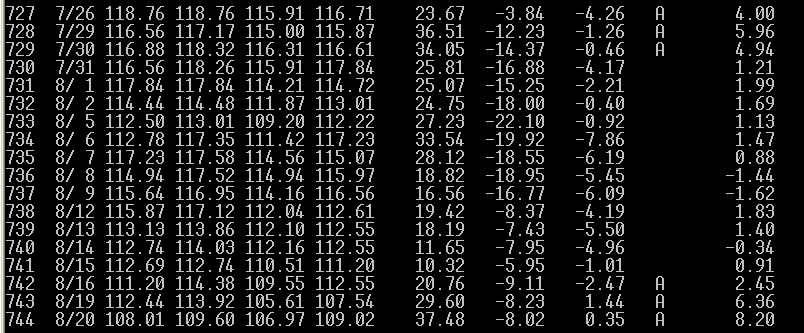 Internal Program
Our best-performing internal program is "Pattern" It is giving a weak buy signal. "Weak" in this case means the signal could be changed depending upon the results of data for the followoing day.
Results of "Pattern" for Orange Juice (blue lines = successful trades, red, unsuccessful): (Always in the market.)