News Analysis
With twenty-five or more percent of the Florida orange juice crop wiped out by sudden death greening disease, orange juice futures shot up unitl it was indicated Barzil, the world's Number One orange juice supplier, would have a bumper crop. Then futures prices began to collapse aided by reduced demand for certain fruit juices in a more weight and health conscious America. Then Hurricane Irma hit Florida with much damage expected. Then it was reported the damage was not as severe as previously expected. But the latest news is that orange juice drinkers may pay as much as $2.30 more for a gallon of orange juice as the result of a broad swatch that Hurricane Irma cut through Florida's citrus crop. Just how high OJ prices can rise depends upon whether Brazil can increase its exports to the U.S. to help cover a shortfall. The Florida Dept. of Citrus estimates that 30% to 70% of the state's crop was destroyed. If consumer switch toi other juices or blends, the prices rises might be managed.
Tropicana made from Florida OJ concentrate was selling for $6.48/gallon on WalMart's website. People will probably not pay $8/gallon. Damage to trees may impact prices in following years as well.
Brazil's exports of OJ to the U.S. may increase by as much as 50% to 300,000 metric tonnes, meeting the needs of about half of American consumption. But Brazilian orange juice is less sweet and more sour. If Florida becomes a less important supplier, thats another reason for consumers to drink less juice. American's habit of drinking orange jjuice is highly associated with Florida.
Many trees in the Florida orange belt were actually uprooted. This cold provide a knockout blow for orange juice that has been slipping in popularity among Americans. Some estimates now put statewide losses at 70%. The average American drinks 23.74 lbs. of orange juice per year, or an ounce a day, more than any other fruit including apples. California and Texas continue to grow oranges, but it is Florida oranges that are used up to 90% to make their way into orange juice because of better taste. In the 1940's Florida began to move excess oranges into other parts of the country along with publicity campaigns.
The number of acres in Florida planted with mature orange trees was 624,900 in 1997 at its peak, but has fallen to 367,500 in 2017. That's a decline of 40%. Because fruit juices like orange juice are so sugary, research organizations recommend switching to other beverages and demand has declined.
Recently the USDA pegged the 2017-18 Florida orange crop at 54 million 90-lb. boxes, down 21% from last season. Before Hurricane Irma, the USDA was estimating 75 million boxes. Since this was not as bad as figures previous cited in this article, orange juice futures fell for a time. But the USDA estimate was still the lowest in 71 years. The real damage is in South Florida, where 70% - 80% of production was lost to the hurricane.
Orange juice has moved more than any other commidity this year. Falling prices earlier were a combined result of diet/health concerns and a decline in production which led to a decline in interest from futures traders. Of course, the takeover of the contract by ICE futures didn't help either, as that exchange has introduced hefty problems to small traders making their products undesirable.
The latest news seems to indicate sources have under-estimated the damage due to Hurricane Irma. But orange juice may also be pricing itself right out of the market. Florida orange juice production is continuing on a downward spiral. It is anticipated forecasts for season totals will continue to decline as the season progresses. The latest Florida government estimate was down 7.4% from its previous estimate. High winds and flooding rains have made it difficult for trees to hang onto whatever fruit that's left.
Grapefruit production has also fallen about 40%. In 1997, the state's harvest totalled 244 million boxes. The state estimates damages to Florida's groves at $2.5 billion. About $761 million of this was for citrus trees. Governor Scott of Florida has asked for $21 million in federal aid, $10 million for citrus research, $4 million for marketing, and $7 million for post-storm relief.
Researchers are claiming that crop estimates in the recent past have been positively correlated with the size of the U.S. market, but not correlated with orange juice imports from Brazil. Brazilian crop estimates and the USDA Florida Crop Report have shown no correlation.
A key element in news analysis is various reports from the U.S. International Trade Commission, known as "the Commission." It requires reports on impacts of imports of Brazilian orange juice upon American prices. It has requested Brazilian exporters to provide data, and major companies in Brazil have been cooperating since the early 2000's. There is very little domestic demand for commercially processed orange juice in Brazil, so Brazil's orange juice industry is geared for export. Five firms account for 83% of Brazil's exports. Any remainder goes into inventories. The Commission has concluded in the past that high inventories do not cause orange price to fall, but low inventories will cause orange juice prices to rise. Transportation costs for oranges from Brazil are roughly equivalent to transportation costs for oranges from Florida to other parts of the U.S. For reasons not entirely clear to us, the largest U.S. importers of foreign orange juice are kept secret (redacted) in Commission reports. These importers frequently mix Florida with Brazilian orange juice to standardize color and taste.
Our assessment of the news follow the present trend of damage interpretations to suggest a shortage of domestic orange juice will raise futures prices, and the impact of Brazilian imports will not be as great as previously anticipated. But the news circulates up and down all over the place since the hurricane, providing some credence to those who believe news is simply written to adjust to wherever futures prices lead.
Point & Figure Chart


200.0I                                                                  T 11/ 9
     I ICE - Jan-18 Orange Juice, 15000 lbs, c/lb. Cm.=0.20  Lim.=10.0
     I
     I
     IO  X
190.0IOX_XO____________________________________________________________________
     IOXOXO
     IOXOXO
     IOXO O
     IOX  O
180.0IO___O____________________________________________________________________
     I    O
     I    OX         X
     I    OXO        XO
     I    OXOX       XO
170.0I____OXOXO______XO________________________________________________________
     I    O OXO      XO
     I      OXO      XO
     I      OXOX     XO
     I      O OXO    XO
160.0I________OXO____XO______________________X_________________________________
     I        O O    XO                      XOX
     I          OX X XO                  X   XOX
     I          OXOXOXOX                 XO  XOX
     I          OXOXOXOXOX               XOX XOX
150.0I__________OXOXOXOXOXO______________XOXOXOX_______________________________
     I          OXO OXOXOXO              XOXOXO
     I          OX  OXOXOXO            X XO OX
     I          O   O OXO O            XOX  OX
     I                O   O            XOX  OX
140.0I____________________O____________XOX__O__________________________________
     I                    O            XOX
     I                    O        X   XOX
     I                    O  X     XO  XO
     I                    OX XOX   XOX X
130.0I____________________OXOXOXOX_XOXOX_______________________________________
     I                    OXOXOXOXOXOXOX
     I                    OXOXO OXOXO O
     I                    O OX  OXO
     I                      O   O
120.0I----I----I----I----I----I----I----I----I----I----I----I----I----I----I---
      11111111                                11
      111222221111222334444666677778888999999900
      012001230112012020112122301231222000122212
      289179206277267135384216051410159167402733

The above chart is giving a conventional buy signal.
---
Cyclical and Seasonal Factors
We are headed toward a cyclical high and a seasonal down period.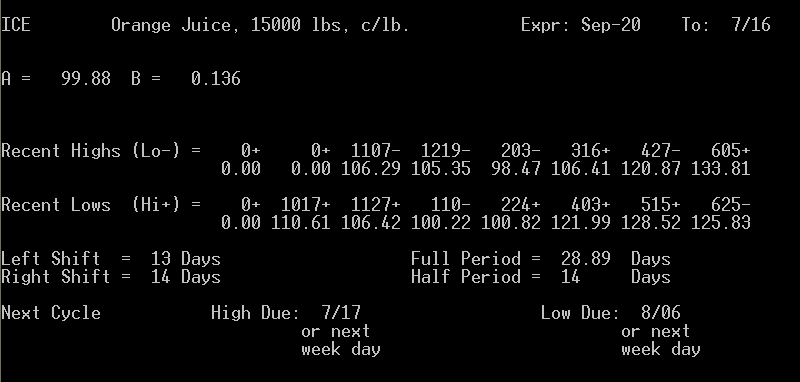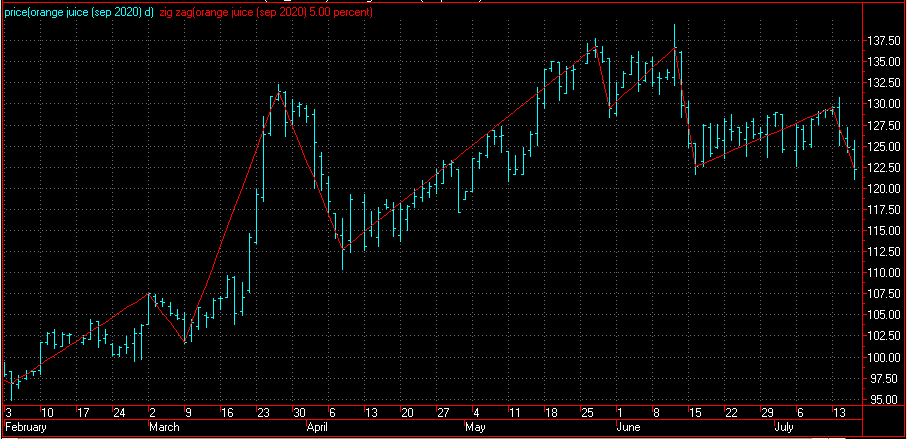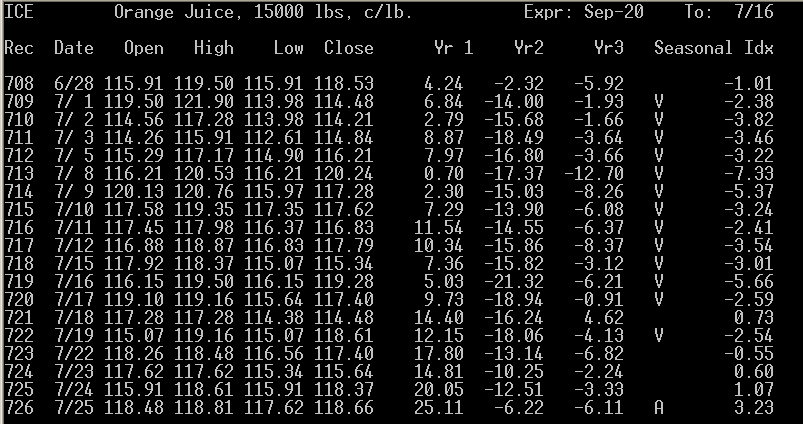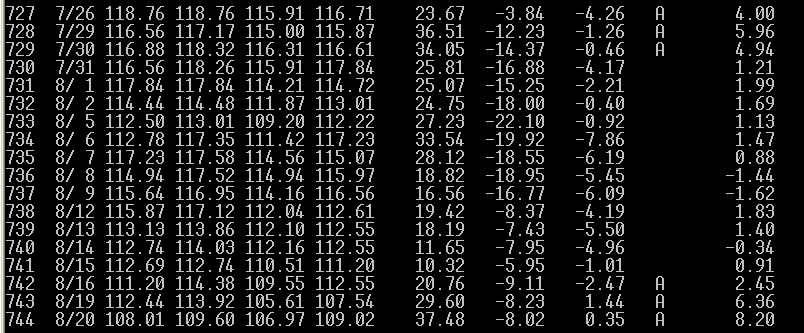 Internal Program
Our best-performing internal program is "Pattern." It is giving a buy signal.
Results of "Pattern" for Orange Juice (blue lines = successful trades, red, unsuccessful): (Always in the market.)